The Ancient Site of Glanum - The Market Place
The market, or macellum, has a large entrance, framed on one side by a sacred shrine - sacellum, and on the other side by a vast emporium with a well. There are four other emporia to the rear of the courtyard bordered by a Doric portico. In Roman times, part of the market was turned into a sanctuary for the Good Goddess, Bona Dea, an oracular goddess who listens to prayers. The votive alter is dedicated to the goddess's "ears", shown crowned by a wreath.
| | |
| --- | --- |
| camera | unknown |
| exposure mode | full manual |
| shutterspeed | unknown |
| aperture | f/0.0 |
| sensitivity | unknown |
| focal length | 0.0mm |
Classic Cars and...
Emilie's F...
Ancient Hellenic...
random
photoblogs.org
permalink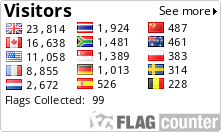 ....peter:) © rights reserved