Bufflehead Ducks Arrived as the Ice Breaks
The English name is a combination of buffalo and head, again referring to the head shape. This is most noticeable when the male puffs out the feathers on the head, thus greatly increasing the apparent size of the head.
They are migratory and most of them winter in protected coastal waters, or open inland waters, on the east and west coasts of North America. Their breeding habitat is wooded lakes and ponds in Alaska and Canada, almost entirely included in the boreal forest or taiga habitat...
.
.
| | |
| --- | --- |
| camera | Canon EOS REBEL T2i |
| exposure mode | full manual |
| shutterspeed | 1/640s |
| aperture | f/5.6 |
| sensitivity | ISO100 |
| focal length | 55.0mm |
Sand On The Curv...
Strong Winds Mov...
Remi Lake is Bre...
random
photoblogs.org
permalink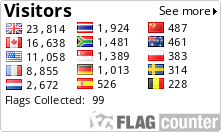 ....peter:) © rights reserved